Welcome to the home page of the USS Iwo Jima LHD-7 on the USS Iwo Jima Class Association website.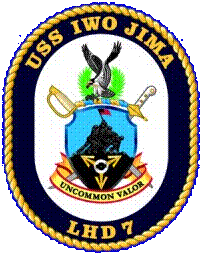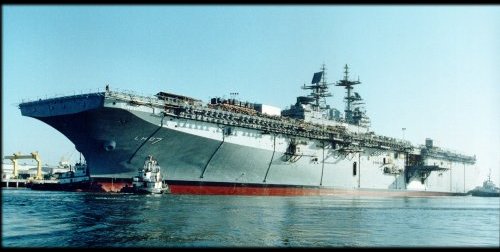 USS Iwo Jima (LHD-7) moving to outfitting pier at Ingalls Shipyard (Ingalls Shipyard Photo)

On June 10,1997, the Secretary of the Navy John H. Dalton announced in front of the Iwo Jima Memorial at Arlington National Cemetery the the newest amphibious warship will be named USS Iwo Jima (LHD-7), the seventh ship of the Wasp class.
Secretary Dalton said, "It is an honor for me to name our newest amphibious ship after the Battle of Iwo Jima. I am proud this great Nation will commission USS Iwo Jima to honor the enduring legacy of those who fought and dedicated their lives to the United States of America. Iwo Jima represents not just a single costly battle, so long ago. It symbolizes also, the proud heritage of our Marines and Sailors who recognize a greatness beyond themselves and their service. Because of Iwo Jima and battles like it, the world can appreciate America's commitment to democracy and justice"
USS Iwo Jima was christened at the Litton Ingalls Shipyard in Pascagoula, MS on March 25, 2000 by Zanrda Krulak, wife of retired Marine Corps Commandant Gen. Charles Krulak. The ship was commissioned on June 30, 2001 at the Naval Air Station Pensacola, FL and arrived at it's homeport of Norfolk, VA in August of 2001. USS Iwo Jima is the second U.S. naval ship to be named such; the first, decommissioned in Jamuary 1993 was the lead ship of the Iwo Jima class of amphibious assault ships. The principal mission of Wasp Class ships is to enable the Navy/Marine Corps team accomplish a seamless transition from the sea to a land campaign and conduct prompt, sustained combat operations at sea, as the centerpiece of the Navy's strategy Forward...From the Sea.
The Wasp Class is designed to carry nearly 2,000 combat Marines, 1,200 Sailors, a full range of Navy and Marine Corps assault helicopters, Harrier II V/STOL (AV-8B) "Jump Jets". 50 m.p.h.LCAC hover craft (Landing Craft Air Cushion), and many other landing craft or amphibious vehicles.
A Wasp Class amphibious assault ship is fully capable of amphibious assault, advance force and special purpose operations, as well as non-combatant evacuation and other humanitarian missions. Additionally, the ships are fully equipped with command , control, communications and Intelligence (C41) systems for flagship command duty; and have medical facilities...including a 600 bed hospital...second only to the Navy's hospital ships in capability.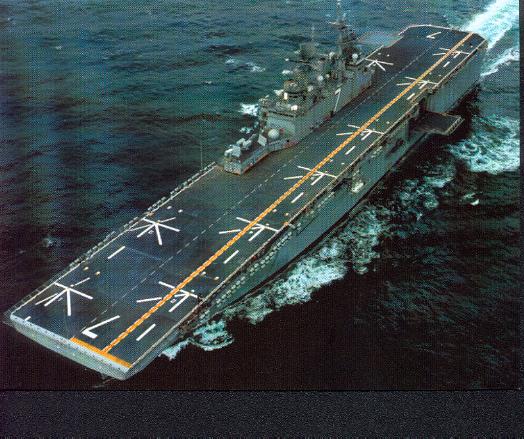 LHD-7 at sea